Garmin Sat Nav
Garmin In-Car Sat Navs
Garmin's range of sat navs have come a long way over the last few years.
Looking at the review from buyers across the various website that sell the Garmin Sat Nav range directly, I've noticed a marked improvement over the reviews and ratings they are now getting. I would even go as far to say that they may have taken over the top spot from TomTom.
Free Lifetime Stuff From Garmin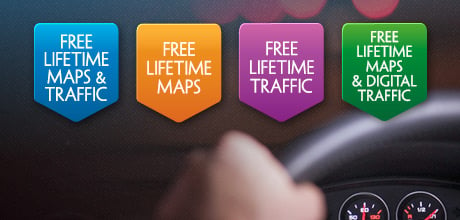 The Nüvi range of sat navs all end in letters, such as LMT or LT, for example.  These letter lets you know what free stuff you get with the device! Look for the initials in the product name: LMT, LT, LM and LMT-D.
LM – Lifetime Maps – free map updates for life!
LMT – Lifetime Maps & Traffic – free maps and traffic updates for life !
LT – Lifetime Traffic – free traffic updates for life!
LMT-D Lifetime Maps & Digital Traffic – free maps and digital traffic
The Digital Traffic gives you accurate up-to-date traffic information without needing to connect the sat nav to your smartphone. It works right out of the box and without subscription.
Garmin's Range of in-car Sat Navs
The range has been sub-divided into 3 groups based on the features and technology within.
ESSENTIAL series
Navigation at its simplest. With its bright 4.3" or 5" display, choice of map, safety camera locations, and many innovative features the Essential series is a dependable, easy to use GPS. To ensure you remain on the right route it provides accurate turn-by-turn directions with spoken street names, lane assistance and junction views of complex junctions.
The current models in the Garmin Nuvi Essential series are:
nüvi® 52LM 
nüvi® 54
nüvi® 52
nüvi® 54LM
nüvi® 44LM
nüvi® 42LM
nüvi® 42
ADVANCED series
Advanced Series is a complete navigating companion delivering an advanced navigation experience coupled with valuable tools to facilitate a safer, faster, and stress free journey. It includes Garmin's new, exclusive Real Navigation. Advanced models are available in 3 sizes and a choice of features, including digital traffic.
The current models in the Garmin Nuvi Advanced series are:
nüvi® 2598LMT-D
nüvi® 2548LMT-D
nüvi® 2508LT-D
nüvi® 2408LT-D
nüvi® 2797LMT
nüvi® 2597LMT
nüvi® 2597LM
nüvi® 2577LT
nüvi® 2567LM
nüvi® 2567LMT
nüvi® 2557LMT
nüvi® 2547LMT
nüvi® 2547LM
nüvi® 2517LM
nüvi® 2507
nüvi® 2497LMT
nüvi® 2497LM
nüvi® 2467LM
nüvi® 2448LMT-D
nüvi® 2447LMT
nüvi® 2447LM
nüvi® 2407
PREMIUM series
Stunning, stylish design coupled with a superior navigation experience, the award winning premium nuvi® has a crisp 5.0" multi-touch display to present amazing 3D landscapes and buildings. Premium models include a choice of features such as voice controlled navigation, Garmin Real Navigation™, lifetime European maps, lifetime Digital Traffic, Bluetooth® and Smartphone Link compatibility.

The current models in the Garmin Nuvi Premium series are:
nüvi® 3598LMT-D
nüvi® 3597LMT